Make your reservations as soon as possible! The Vectren Dayton Air Show featuring the U.S. Navy's Blue Angels will be in town June 18-19, so weekend hotel accommodations may get crowded.
TownePlace Suites Dayton North
3642 Maxton Rd
Dayton, OH 45414
(937) 898-5700
$94 for Studios, and $112 for Two Bedrooms (2016 SOLAR SPLASH rates)
Comfort Suites
5220 Huberville Avenue
Dayton, OH 45431
(937) 425-6498
www.comfortsuitesdayton.com
National Museum of the US Air Force
1100 Spaatz St
Dayton, OH 45431
(937) 255-3286
Engineers Club of Dayton
110 E Monument Ave
Dayton, OH 45402
(937) 228-2148
Eagle Creek Marine
5700 Poe Avenue
Dayton, OH 45414
(937) 278-9511
International Team Information
It may be possible for SOLAR SPLASH to arrange for logistical support for qualifying international teams which will potentially provide assistance in shipping a team's boat and other hardware to the competition.  In order to determine if such assistance will be possible, Solar Splash must be notified as soon as possible of all international teams that are seriously considering entry in the competition.  Notification of intent to enter must be received from any international team wishing to be considered for shipping support on or before January 31 of the year of the event to allow adequate time to determine if such arrangements can be secured.
Site Map
Click on the Get Directions button to get driving directions from the TownePlace Suites to Eastwood Lake. You can then zoom in on the map and turn on "Satellite" view to see Eastwood Park up close. We will be set up in the area between the parking lot and the lake.
Dayton site photos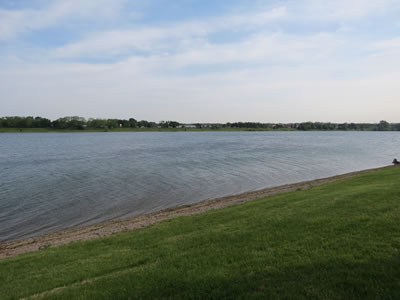 Eastwood Lake, the site of Solar Splash 2014, has a gravel shoreline. We install temporary docks in this area, which will be very near the team tents (paddock area). Boats can be tied up there, but launching and retrieving of boats will be done at the boat ramp (see below). The ground may be a little bumpy and uneven, so boat trailering should be designed with that in mind.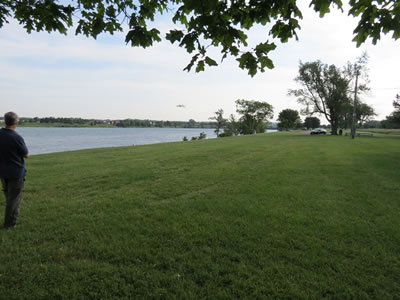 To the right is a view of the grassy area where the team tents will be placed. Electrical poles are available at each end of the tent area, and extension cords will be run to each team's paddock area. Each team will have a paddock area of approximately 20′ x 20′ to store the boat and trailer, tools, etc. Security will be provided at night during the competition.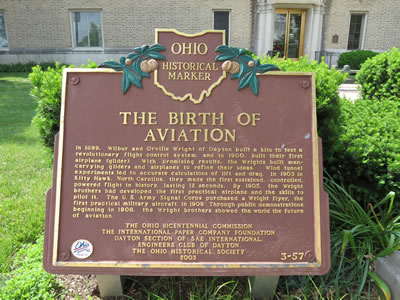 Dayton was home to Orville and Wilbur Wright, the first to fly a heavier-than-air powered aircraft. They were part of an innovative engineering community in Dayton in the early 20th century. The building in the background is the Dayton Engineers' Club, which is where the Wright brothers and others met to eat and exchange ideas.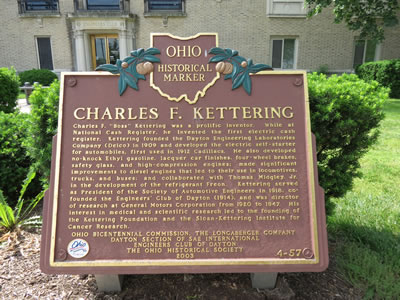 Another of the early 20th century innovators from Dayton was Charles Kettering. He invented the electric starter for automobiles that, ironically, doomed the electric vehicle in favor of internal combustion engines. He also invented the electric cash register while at National Cash Register (NCR), a Dayton-based company. Read the plaque to see other things Kettering invented that we take for granted today, less than 100 years later.